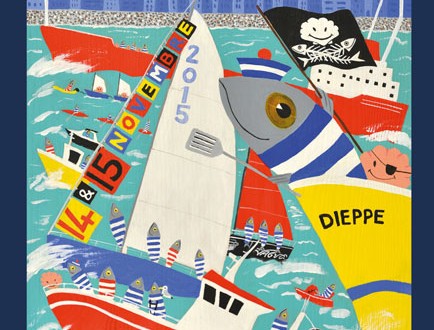 Herring feast awaits you every weekend in November : Etretat and Tréport, Dieppe, St Valery en Caux and finally Fécamp
On the coast Seinomarin (Seine-Maritime), herring is output (the pickled herring!).
Enough to make you mouth water …
Several appointments await you in Normandy.
It was at Etretat that it is to "open the ball." Then it was the turn of Tréport, Dieppe, Saint-Valery-en-Caux and Fécamp to honor herring (also St. Jacques in Dieppe shell). On the program of these days wish to friendly: exhibitors, sales of herring and tastings (obviously!), Markets, music and various and varied animations.
Etretat : 15th edition of the Herring Festival Saturday, October 31, all day, from 11 am to 23 pm. Kirs Norman, grilled herring, herring salad, sausage patties over and gourmet coffees in the evening!
– Background music all day, with the afternoon concert by the excellent group of Celtic rock "KALFFA" and the group "Grey Celts" traditional Celtic music
– NEW: it will burn herring until the evening and end the evening folk dance, FREE, with the dynamic group "Floor of Fire".
– Many stalls, including shop …
Dieppe : 100,000 visitors each year !

For the record, Dieppe is the oldest.
She is now in its 46th edition and is the most followed of all.
More than 100,000 people come each year to attend this great event.
Here more than elsewhere, herring has held a prominent place.
Until the 1970s, the one here is nicknamed "king fish" has been the engine of the local economy.
"Eat herring, you will have beautiful children," proclaim some 'crowd harengeurs "!
Grilled, marinated with a little lemon and a glass of white wine, herring is eaten with all sauces!
The Saint-Jacques shell is associated with this event since Dieppe is the first French port on the matter.
Dates to remember
> Etretat : Saturday, October 31, 2015 (The ébreuillage herring, preparations will take place the day before)

> Le Tréport Saturday 7 and Sunday, November 8, 2015

> Dieppe : Saturday 14 and Sunday, November 15, 2015 (Frequently Asked herring and scallops Jacques)

> Saint-Valery en Caux : Sunday, November 22, 2015

> Fécamp : Saturday 28 and Sunday, November 29, 2015